Merry (Belated) Christmas! Today I wanted to talk to you all about the story structure of v13 and why it's been taking such a long time for it to release. 
v13 is a special version, that's for sure. It's one of the longer episodes the game has put out. Actually, i'd say it's the longest? Either way, the main story this time is taking a LOT more effort than usual and I wanna make sure everything is absolutely perfect.
That being said, what -exactly- is causing v13 to be the behemoth it is? Well, let's dive into that!
Some of you have already guessed, but the crew is splitting up for a Super Secret Mission(tm). What's the mission, you ask?
I just said it was Super Secret, keep up. 
V13 is separated into 6 segments. Each being tackled by 3 different groups. So far the two groups we've seen are:
 
[Melia, Ren, Venam]
and 
[Erin, Kanon, Alexandra, and Damien]
The third group is
[Player, Aelita]
Each group is on the hunt ̶f̸o̸r̵ ̵t̵h̶e̶ ▇▇▇▇▇▇ , as we know, but how are each of their parts composed?
Well, each segment approximately the length of half a version. So by that scale, let's add them up!
Main Story 1 and 2 = 1 version
Erin + Melia's segment = 1 version
Player + Aelita's segment = 1 version
Epilogue = 1/2 version
v13's main story is roughly a little more than 3 versions worth of content... So even though it feels like you're waiting one year for one version, you're actually waiting for about 3, lol. 
Not to mention the new additions/changes to the early game and gen 8. Let's make this about 5 versions packed into one big bundle with a Christmas miracle bow at the top~
---
If you're interested in the flow of the actual episode-- I have created this special little chart for your eyes to wander over.
As the first main story segment ends, the player will have an option to choose (but must complete both to proceed) Erin or Melia's path. Once they're both completed, the player will then get the option to choose between the player and Aelita's path. 
Once alllll that is done, the true ending of V13 will be revealed.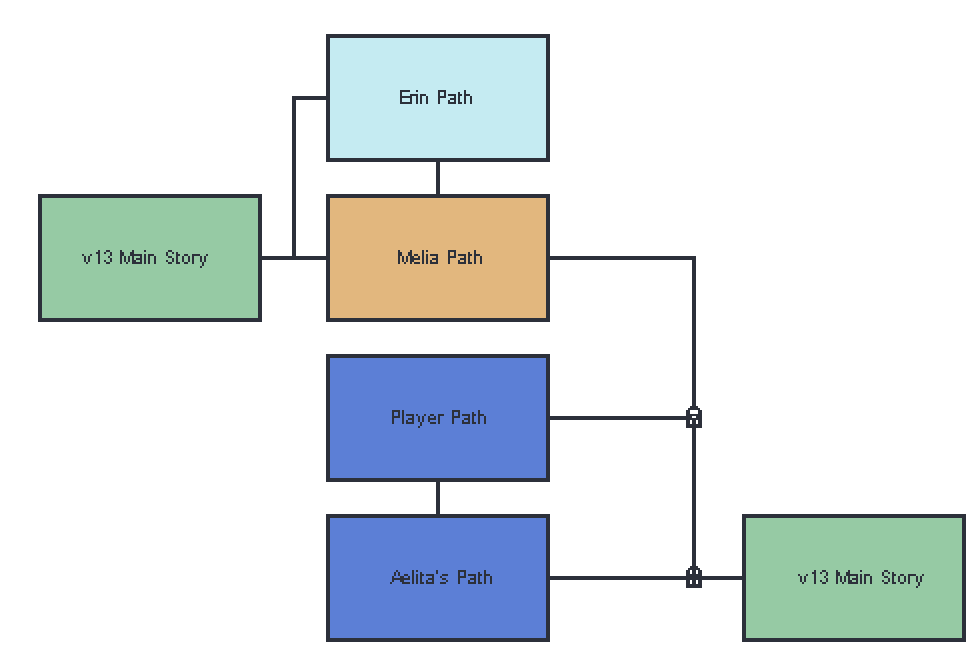 ...I think you can see why I decided to cut this version into two. With 13.5 being side stuff, mainly 
It's also why progression on the status bars are SOOOOOO slow. Everything takes a lot of effort and time. I work all day on one thing and the progress bar goes up by like a decimal.
That being said, I'm SUPER SUPER SUPER excited for this version. My Dev team and I have worked hard and we're so excited to show you what we've got hidden. Cause after all... We've only shown the surface of the exciting things we've got in store for you all :).
Hope you had a Merry Christmas, and I hope y'all have a wonderful New Year!