I announced in my prior post that Terajuma was getting some work done! In this process, a new area was added, with a new quest was added! In this quest you'll meet someone you've heard but have never seen! Oh, and those other two are here as well.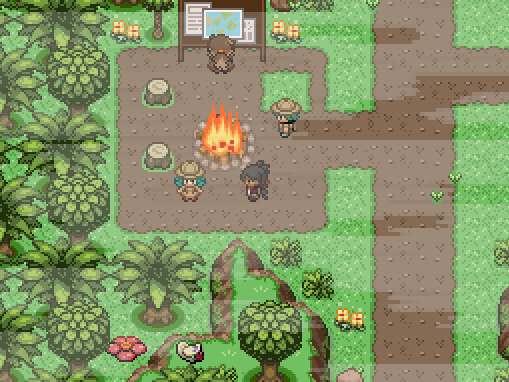 Flora and Florin have time off and they're visiting Terajuma so that they can explore through a mysterious temple found deep within the dense jungle. For this journey, they brought friend with them! Introduce yourself, please!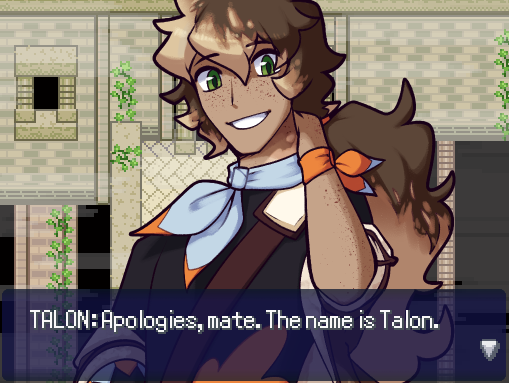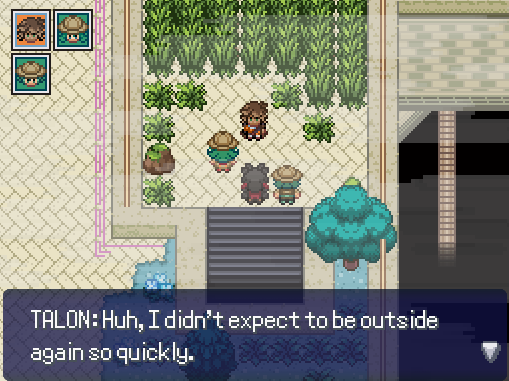 Full body art:
Talon has appeared! Talon is a skilled adventurer, as well as a well-known cartographer. He travels through the region on his off time to draw maps of dangerous and unexplored areas. He is a good friend of Florin, but he and Flora don't seem to get along very well...
Q/A no one asked for
Q: Will I be able to do this quest on my completed v13 file?
A: As per the twitter poll, all quests introduced in v13.5 will have a grace period. While it'll be a little weird for you to encounter these folks so late in the game, I feel like it's better to, you know... Not force people to replay the game to see a new and major sidequest. However, once v14 drops, they will expire at their appropriate times. So do them while you can.
Q: Does Talon have an accent?
A: Yes, he has an Australian accent.
Q: What's Talon's favorite type of food?
A: Savory
Q: What is Talon's least favorite food?
A: Not too keen on overly sweet and bitter foods.
Q: Height?
A: 5'11
Q: Why is Talon's hair and skin different in some patches?
A: Talon has Vitiligo. 
Q: Where is Talon from?
A: Australia.  He is not from Aevium, but he currently resides in Grand Dream City. 
Q: Is Talon's ace Talonflame?
A: No, and he doesn't like when people assume this! 
Q: Favorite Pokemon?
A: Rufflet
Q: Least favorite Pokemon
A: Any Pokemon that are spiders or snakes.