Okay, let's start with the Big Thing. Rejuv is going through a major script overhaul. In short, Rejuv/Desu/Reborn are being formatted to use the same scripts so that when a new change is implemented, it can easily be done across all three games. tl:dr, optimization yada yada. Recently this process started for Rejuv and well... How can I say this eloquently... 
Shit's fucked, shit's broken, and we need a helping hand to make things not fucked.
The basic requirement for this is, ah, uh, lemme look at the cue cards... uh... "Know how to code, and get along with Cass."
Right, that aside, I'm also extending this for people who want to help and are experienced with spriting-- Particularly in editing/dealing with Pokemon sprites. With Gen 9 looming and all of our ambitious takes with Aevian mons... Well, quite frankly, we need help in that department too. (If you think you can do well editing tilesets, or animating moves, that'd be a big help too!) Discord is required.
Zumi's edit 17/7/2022: Also, please make sure you actually have time to contribute! We're looking for people who are able to consistently help out during development. While we try to be as understanding as possible about any circumstances that pop up and IRL responsibilities are also super important, times like right before and on version release we need all hands on deck, so please make sure you're not signing up while already having too much on your hands.
#------------------------------------#
Before I start with the updates, I want to reiterate that v13.5 is a full version. With its own new storyline, and sidequests... I have to put that there because I got some nasty tumblr asks a while back dogging me about "taking too long for a half version".  
it's not a half version. Even if it was, making a game takes time. I also have my own personal life. Please be patient. If you're not patient, die mad about it. I'll take as long as I need. Okay? Ok.
Continuing!
#------------------------------------#
Obligatory collage of in game images GO!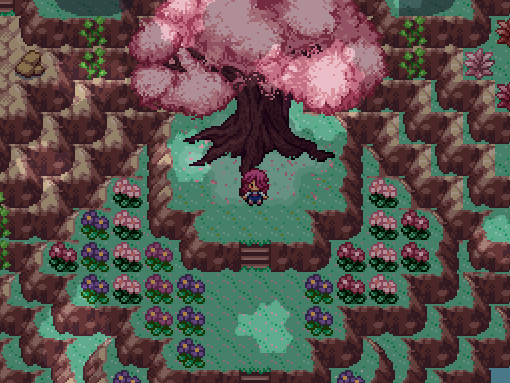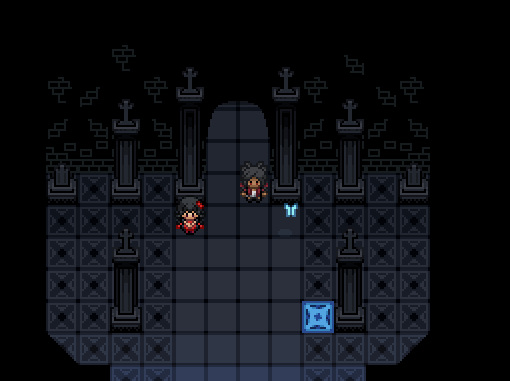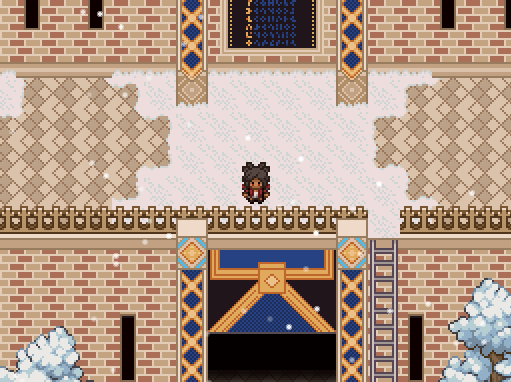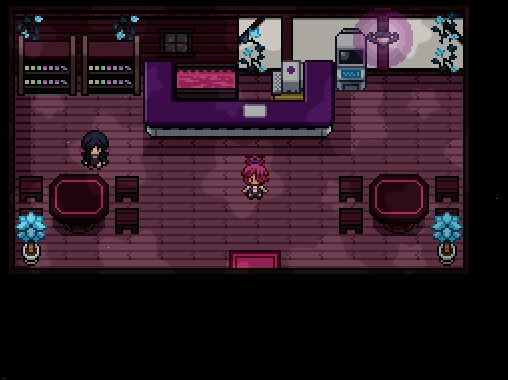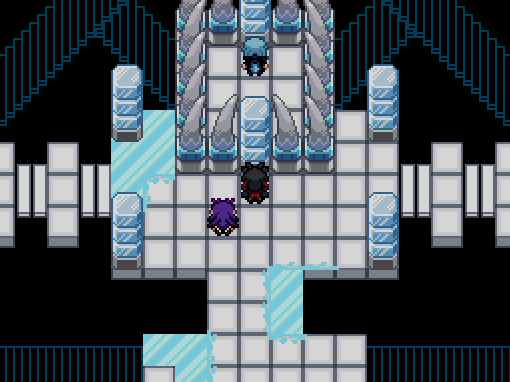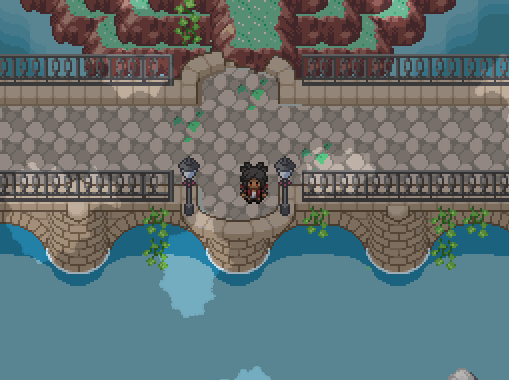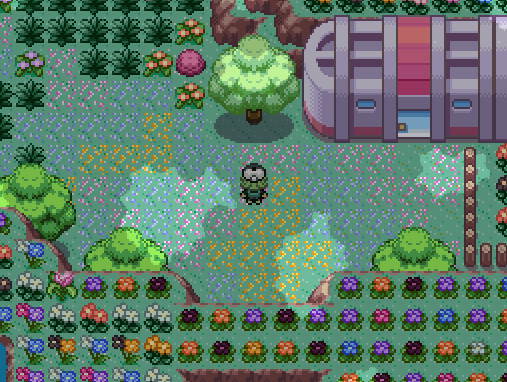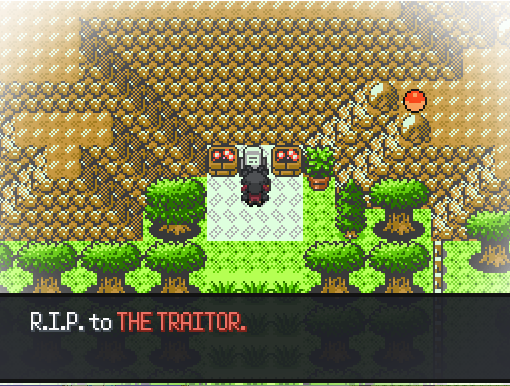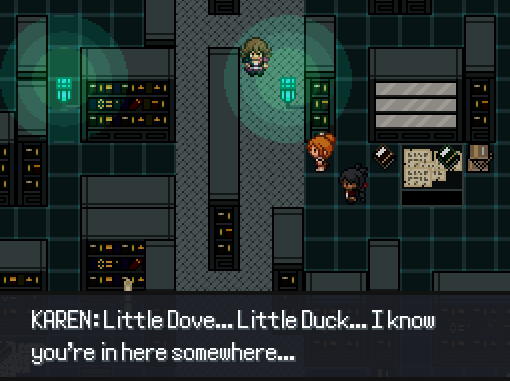 boo
#------------------------------------#
GDC Updates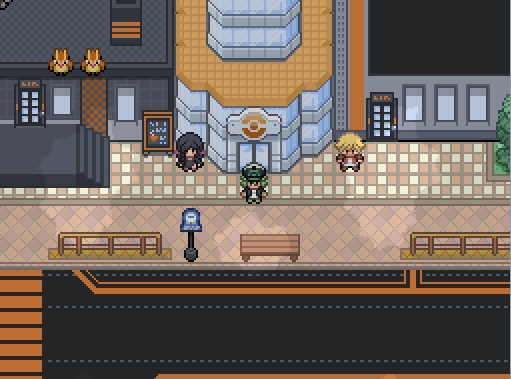 Grand Dream City has been under the radar during this update. My goal with this area was to make every singe map look distinguishable, and to have a clear layout so that getting lost wouldn't be an issue.
Of course, some people can't help but get lost. That's a given, but I wanted to make it so that when you get lost, it's easy to get back on track. 
So... What's new with GDC? Besides the new maps, of course.
All districts will be open the moment you arrive. That includes the festival area with all the mini-games. (Route 9 will not be available.)
Maps have been compacted.
New bus line. This will get you places the train cannot!
New Train/Bus pass item. If obtained, transportation becomes free.
Revamped encounters.
New trainers.
New Help Requests.
Help Requests: 
I've mentioned that there's a new quest log system, right? Pretty sure I have. TL:DR on that is, you get a quest, it's logged in a new menu, and it will be there to tell you what to do and what rewards are available.
However, in addition to that, Help Requests can now be started anywhere. If you come across Sasha lamenting over her mother's absence, you can start the quest just by speaking with her. Girl with the lost Starly? Speak with her! The quest will begin.
Additionally, if you like just grabbing all the quests in one place, you can still use the Help Centers to do so.
New Battle UI:
So uhh... We're getting new UI! The UI we've been using initially was Reborn's, then we moved onto use Xenogene's (recolored blue), and now we're moving onto our own unique interface!
It's not finished, so keep that in mind!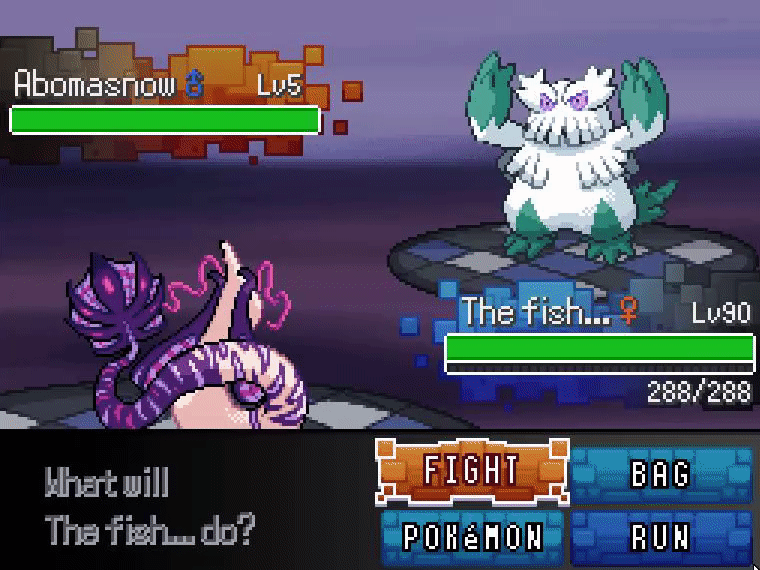 Some things to take note of:
Status changes the entirety of the health bar. There's also a faint marking over the health bar as well. 
New shiny symbol.
Crests and Mega evolution symbols are in the same spot.
Legends Arceus Mons:
- We're probably going to push these with Gen 9 because we still don't have a lot of info on them, and with Gen 9 seemingly bringing them into the game as well, they're probably going to have a lot of changes as well. Plus, we have a lot on our plate already.
But that's all-- Huh? What? ... Oh, yeah, okay. 
So a little something for veteran Rejuv players (I'm talkin' like, V1 players) I have a small lil treat for you!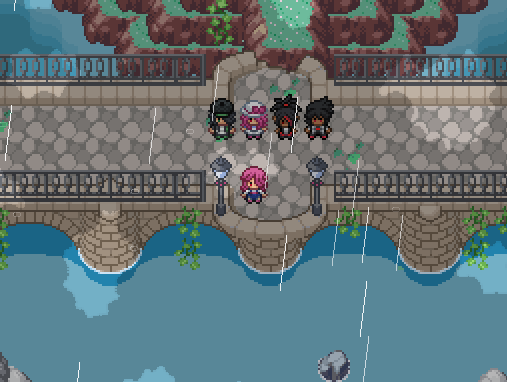 Starting in v13.5, Legacy Sprites are becoming fully supported with an update that brings their quality up to current standards, while preserving their original design as closely as possible! (Alain and Aero are still being worked on)
You will be able to purchase these in game. However, you will still be able to start the game with them if you have the password for them.
More updates on them coming in the future~.
k bye.