13.5, while not a huge update in terms of main story, is a huge update that will focus on a lot of smaller things at once. Why am I taking the time to make a 13.5 update? Well... version 14 is going to be a huge undertaking and I want to be able to focus on it in its entirety. As a result of that, I want to make sure I tie up any loose ends and clean up everything I can. 
So what is being looked at in 13.5?
Terajuma
Grand Dream City
A new questing system
QOL updates (Quality of life)
Gen 8 DLC*
New Aevian forms
*On the note of DLC... Obviously, I'm aware of the new forms being revealed in Legends: Arceus. We're going to have to wait for those games to come out before we even touch those. There's also the issue of stats not exactly being calculated the same in that game? So we'll have to do some tinkering with that. 
Terajuma and Grand Dream City
There were changes to Terajuma this version, but they were very superficial. I actually wanted to do bigger changes there, but it was bloating the v13 cycle. Couple with burnout, a lot of stuff was shelved temporarily. Same with Grand Dream City. Both areas will be receiving some clean up and polish. 
Some small previews of Terajuma:
New Questing System
There's a new quest logging system! Whenever you accept a quest, it will be logged in a brand new menu. With this you can see which quests are currently active, ones that have been completed and ones that have expired. Additionally, you can check exactly what you need to do at any given time! So no more guessing!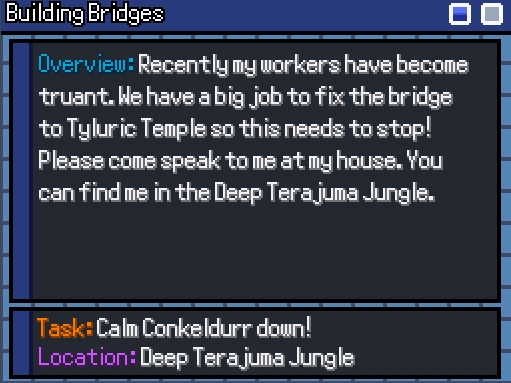 New Aevian Form(s)?
Yes, there will be new Aevian forms, of course. In fact, on my Patreon, I already revealed a new one! There's not much to say about this one, so just take a look!
>Meet
>Best Friend
Meet your new Best Friend!
Aevian Snorunt
"While it has adapted to Terajuma's climate, its natural instincts still remember the time where it happily shivered in the cold. It feels nostalgic when in cold areas."
That's all I have to show for now! 13.5 progress has been going steadily. That being said, I don't expect 13.5 to drop this year, and that's probably for the best. A break is always nice. I'll try to be more frequent with updates. Perhaps every other week? We'll see.
68