This is an except from my Patreon:
"Every version I get a lot of questions asking what contributes to what ending. Will this decision put me towards the good ending? Maybe the bad? The worst? I became sort of tired of these questions, but I understood that it's because nothing is really clear outside of obvious circumstances.
For example, the true ending of the chapter involving Melanie. If you get the good option, you'll know. If you get the bad ending, you'll know. But what about other choices in the game? How will I know? It's a long game and I would like to know which choices matter, etc.
Well, from v13 and onward, you will know! Every quest that contributes to any ending will notify you. But what do I mean by "notify"?
 =============================== 
Quests that contribute to the good and true ending will display like this:
Quests that don't necessarily contribute to any ending will display like this:
===============================
But this transparency isn't limited to quests. Any decision you make will clearly display which path it set you down.
Decisions that contribute to the good ending will display:
Decisions that contribute to the bad ending will display:
...And decisions that contribute to the worst ending will display:
This is all very WIP and the gears will disappear moments after they're displayed. I'll probably make custom graphics for each one, but for now, these are their placeholders.
=============================== 
Speaking of Quests... They've also gotten an overhaul with the use of Quest Cards!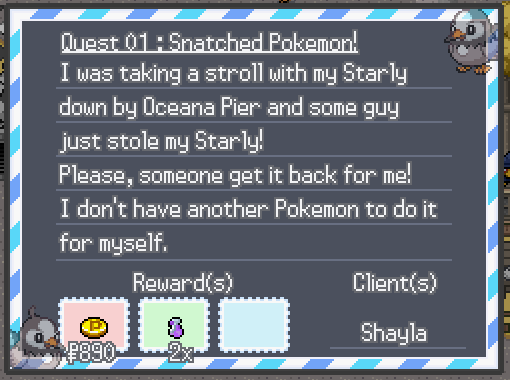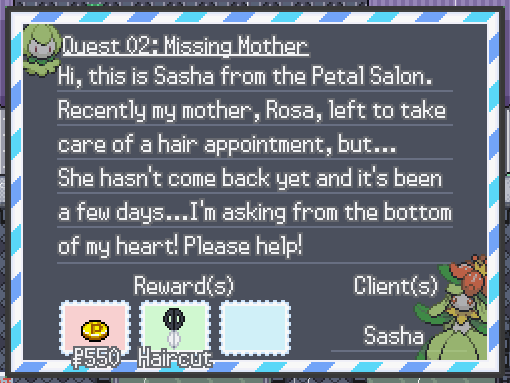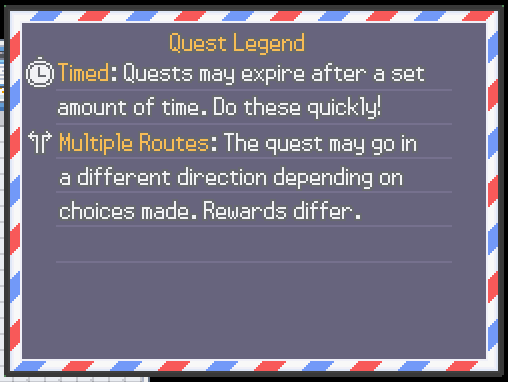 (Note, the first two quests are timed, but did not have the timed stamp at that point as they were early on versions)
These are just a few examples of the new Quest cards I'm working on. Really excited for them and gives each quest their own feel of importance. As shown above, each card will be personally stylized as well. Overall this is mostly a cosmetic change rather than a gameplay/mechanic change. Just one of those things I'm working on when I'm tired and requires not much effort from me."
Let me guys know what you think. Any suggestions? Anything else you want clarity on? This is a great time to ask as I'll be watching this thread closely for a while.
...63% hype... Even though most of that is inflated bc of Gen 8 stuff.... But still!!